Why Is It Important For Kids To Learn Chess From The Early Age?
Ready to gift your child the best of online Hobby classes?
Can we teach kids to play chess online while they're still in kindergarten? Is playing chess online beneficial in any way for them? It is understood that kids have a great learning capacity! Since their first stages of life, toddlers start to develop many different aptitudes and skills. They learn and adapt these skills through plays and games. While thinking about some intellectual and fun games for kids, chess is an incredible option.
So, why can't we offer our kids to thrive on chess that immensely benefits their intellectual and social skills? According to Judit Polgar, World famous strongest woman chess player, she says that chess games are a valuable educational tool. Also, several countries are adopting chess as a recreation and brain workout for kids. So, why is chess adopted in an educational context and is becoming popular across the world? 
There are a lot of advantages to playing chess with kids. It stimulates brain development in kids from an early age. Well, let us explore the importance of teaching kids to play chess online.
In this BaaBee TV blog, we want to get you all solutions for your queries on teaching chess for kids and also on the importance of playing chess online for kids. Finally, to comprehend whether it is valuable and critical.
Also Read: Benefits of Playing Chess Game- Improves Child's Decision-making Skills
Kids, Chess, And The Online Learning World 
Kids can learn many languages as well as different physical skills like walking, jumping, climbing, and a lot more. Moreover, every kid loves games. Therefore, parents should encourage kids to start playing simple board games from a very young age. So, why should chess for kids be different and significant?
The tip is to educate them in a kid-oriented way, rather than depending on common strategies for grown-ups or school children.
Learning kids to play chess games through the internet is an incredible opportunity for kids. It helps to nurture kids in the social, as well as academic context!
Why Learning Chess for Kids Online Matters?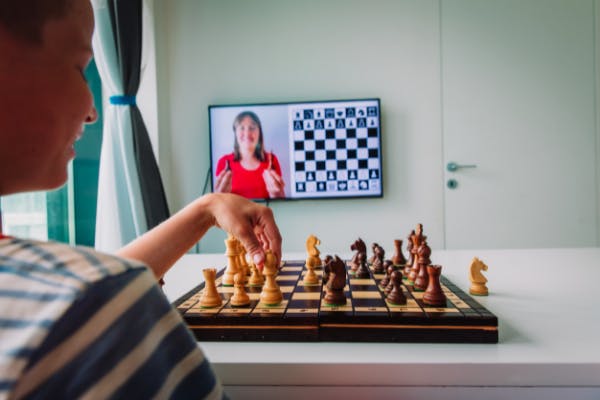 In this era of the pandemic, we all practice social distancing. Our little ones are locked up. Hence, many parents are looking for some excellent ways to improve and entertain their kids. So, learning chess through online training matters a lot for the kids.
To connect with the world, entertain, and develop many critical skills, learning chess online is worth it. Through online classes, kids can acquire the vital qualities for facing mental challenges. It is essential for this current pandemic world.
Benefits Of Learning Chess Online For Kids In a Very Early Age
Chess is a board game that can teach kids how to understand strategically and analyze problems. So, begin to teach kids chess games with the fundamental ideas.
Once your kid has understood the fundamentals of chess, begin to play modified versions of the game. Enable your kid to understand at their own pace, and often be motivating and patient. You want your kid to cultivate a love for the game and think of chess as a recreational activity.
Also Read:  7 Best Chess Books Every Player Should Read
1. Chess Improves Memory Skills In Kids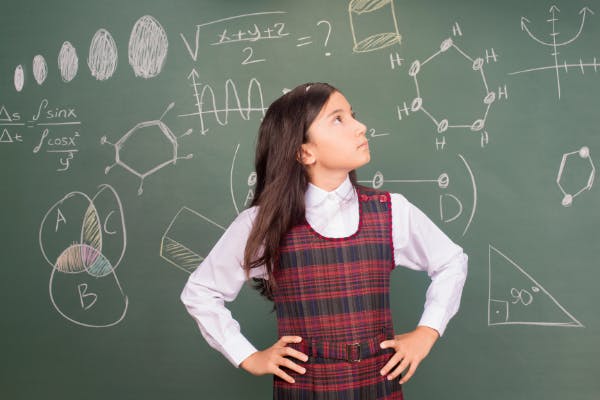 Learning to play chess in early childhood helps the kids to develop memory skills. Chess is a great game that benefits the players a lot. While playing chess, one has to invest all his intellectual skills in it. Moreover, it promotes the enhancement of mental sharpness in kids.
2. Chess Enhances Concentration and Increases Attention Span In Kids
Playing chess games enhances the ability of kids to focus on everything. Nowadays, most of us suffer from less focus. One of the learning disabilities kids possess is a lack of concentration and a short attention span. 
However, playing chess games enhances the focus and attention span. While playing a chess game, the player is concentrating on the checkmate and becomes the winner. A chess game can be lost through a lack of concentration in a moment.
3. Chess Improves Logical and Abstract Reasoning Skills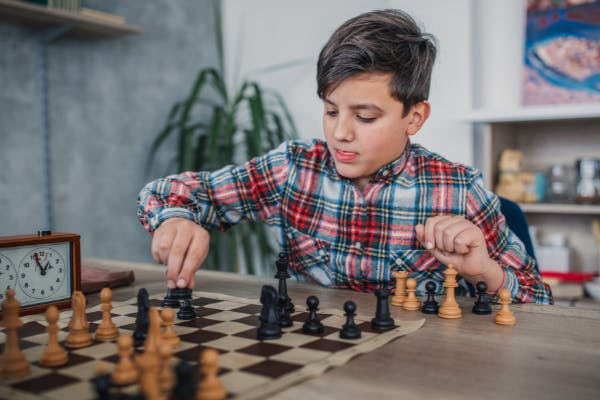 A game of chess always needs adequate logical reasoning skills. While playing a chess game, our goal is to keep the king safe by arranging the pieces perfectly. So, players must need critical reasoning skills to win the game. As your kids start and advance in playing timed games, they may learn to solve the problem logically.
Also Read: How to Improve Critical Thinking Skills In Kids In 2021? Ways, Tips, And Strategies! 
4. Chess Teaches Kids The Value Of Patience
There are about 40 moves needed in an average game. As we know, each of these moves is planned, calculated, and executed carefully. So, it requires immense concentration, and a slight lapse could lead to loss. 
Thus, careful attempts and calculations teach kids patience. The average time for a chess game is 20 minutes. However, it can last for hours. So, your child will sit and wait for the opponent for their turn. 
5. Chess Develops Creative Thinking Abilities In Kids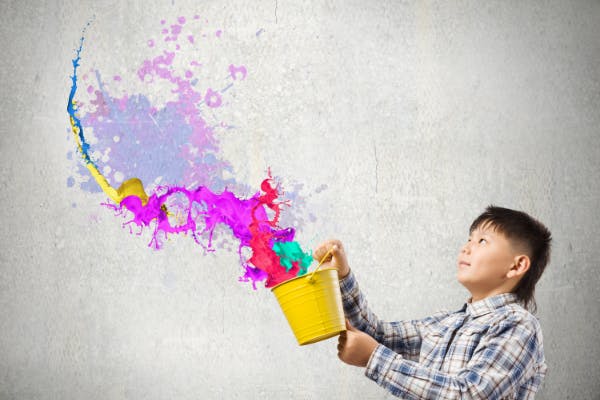 Chess nurtures creative thinking skills in kids. For winning a chess game, the player must be a creative thinker. Chess teaches your kids to devise critical solutions to problems. Kids learn how to analyze and tackle a situation. They also learn to focus on the game challenges and plan an action to solve them. 
6. Chess Fosters Pattern Recognition Skills
Learning to play chess games at an early age develops pattern recognition skills in kids. While playing chess games, kids learn various movement patterns of each chess piece. Also, the player may think about the possible consequences of the move. Thus, they can decide on the movement to win the game. 
7. Chess Develops Reading and Math Skills
According to various studies regarding the chess learning benefits for kids, playing chess games enhances reading and problem-solving skills in kids. Kids who play chess games acquire a higher academic score than their peers. 
Also, online chess games enhance the decoding, understanding, and analytical skills of kids. Moreover, online training on chess games improves the IQ levels of kids.
Also Read: 3 Common Chess Mistakes of Beginners That You Must Avoid
When To Begin Learning Chess Online for Kids?
Experts say that there is no optimal age for kids to begin learning chess games. Experts say that the younger the kid, the greater the impact. At an early age, kids are fond of playing games online. Thus, that has to be encouraged by parents. However, don't ever push your child to learn chess games. The intense pressure to play chess games for kids will do more harm than good. So, always try to foster a love in them for chess games. Make the learning strategy for chess fun and entertaining.
In addition, online chess training from a very early age supports the improvements of vigilance and awareness in kids. 
Also read: 5 Valuable Life Lessons Your Child Can Learn By Playing Chess
Smart Learning with BaaBee TV!
Online chess training and online chess games will surely help the advancements of kids during this Covid-19 pandemic and more. Many kids who are struggling with study disabilities can also benefit from online chess classes. As kids are under the supervision of parents, they need not worry about the children's safety.
Hence, providing your kids the best online chess training sections requires excellent child-friendly websites and the best and good introduction to beginners.
If you are looking for an excellent platform to teach your kids, you are at the right place! BaaBee TV offers expert-led online chess classes for kids aged 5-14 years. Check out our website for reading reviews from the parents and book a demo class for today.
Have you already had a wonderful experience in learning your kids to play online chess games? Then feel free to share your story with us on our Instagram.